By allowing the modern trends to interfere with the marketing, it is now able to predict the funnel stages of the customer with more visibility. And now, the process no longer seems to be like a funnel.
The whole Digital Marketing funnel process can also understand by SEO expert and for that, you can hire an Digital Marketing Company in Gurgaon. They will facilitate your business with every possible way to smoothen the digital marketing processes.
Customer lifecycle involves numerous steps such as – searching, consideration, purchasing, maintaining a loyalty to the product. Marketing funnel often leads to better understanding of stages of a customer. Although the process of traditional marketing funnel cannot be fully trusted because of incomplete and out of focus view. It does not focus beyond the purchase by the customer, however providing the incomplete journey of the stakeholder. Let us now have a close look at the stages of the digital marketing funnel. Perhaps one thing that would strike you immediately after studying this hourglass funnel is that it focuses beyond the point of customer purchase. Thus, providing one with full insight of customer-vendor relationship.
Some benefits of hourglass or Digital Marketing Funnel over traditional funnel is –
The customer can make an entry at any pre-purchase
Stakeholders do not necessarily have to go through each phase linearly.
The journey of customers can have variations, unlike traditional funnel.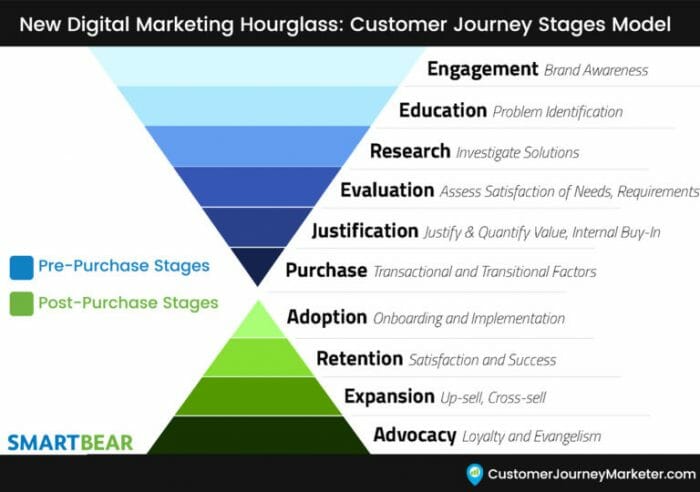 ENGAGEMENT STAGE – Do I want to engage with this brand? Is this the correct place for my expectations? Engagement stage is the foremost one for the brand. Here it attracts the customers who would add value to them. Make sure you don't attract all the cast. The main objective is to find right customers for the brand and have a good amount of interaction with them. Building trust and acknowledgment take place at this stage. This is the only stage which not directly linked to the problems. Customer engagement
EDUCATION STAGE – The objective of this stage is to acknowledge the problem of the customers and realize that this is the time to find the solution for them. It could be any challenge, pointer, pain, hurdle which a customer is not able to overcome. Say the solution was marketing automation an educational strategy would undoubtedly focus on the recovery or some other high-level solution to it. For educating customers you should recommend good Digital Marketing Packages to getting improvement in marketing results.
RESEARCH STAGE – Research stage is all about finding the value of the product. Ask yourself whether you need the product? What are all the best alternatives possible? The product you are about to approach is beneficial for you in long term or not? Also, allow yourself to answer why do you need the product. This process will allow a customer to learn deeply about the product. Re-confirm the value and proceed further. It is an essential step for a customer to evaluate his decision before stepping up.
EVALUATION STAGE – After researching, a customer must have developed a checklist in his mind. He would definitely end up having one according to it. Basically now the focus is on whether the product is capable of completing all the requirements of the customer. Requirements can be – technical specifications, use cases, it's working etc. Every person has a different checklist so a product needs to fulfill what a human requires personally. The above Digital Marketing Funnel can be easily evaluate or done by hiring a website design agency in Gurgaon.
JUSTIFICATION STAGE – Why does one need this product now? how this is applicable in between the process sometimes, the opportunities do not grow or mostly I don't lead to a sale, at that point in time, you need to cover up with the justification. Many examples are – social proof, flexing brand strength which is covered here.
PURCHASE STAGE – This is one of the most important stages. In this stage, the traffic is about to convert into According to the customer point of view, certain things would strike such as – how would this change be accepted by me and my team, could it lead to the overhead cost to me, what all are the risk factors associated with it. It is concluded that it is much safer to accept the current status than to put a risk factor in the middle of the process. Switching the automation can lead to huge amount of time, money and resource investment. A huge transition is seen. So before proceeding further, make sure that all these points are considered and discussed well with your digital marketing team. In order to overcome the hump, customers need to be confident with their decisions taken.
ADOPTION STAGE – This stage is all about how smoothly you are able to adopt the change to your platform. If you have promised a smooth platform to the customers in purchase stage, it's time to fulfill As soon as customers start using it, they need to realize their value and should not face any value. If the starting stage for the customer turns out to be painful or unrealistic, they can even churn the entire process. Training materials, guides, tutorials are all you can help them with so that they are closely known to what they are using and they can have best from the provided product.
RETENTION STAGE – Above all the stages, you need to make sure that customers are achieving their goals with your product, reaching the success and are happy with whatever they had Authenticity is the key. Ensure that you have transparency in your customer. Put so many efforts that even customers can say that you have done your best to make it to the success. Certified programs, tips/tricks, educational content is all the part of this retention stage. The more you care about your customer, the more long-lasting relationship you will end up having with them.
EXPANSION STAGE – What additional help customers can seek for you comes under this stage. If you have been successful reaching this stage, you have won the most precious thing "trust" of the customer. After touching this stage, if your customer finds any problem, in any case, he'll be reaching you every time. Be ready to address them then. Make sure the communication is smooth at both the ends. The job is basically to make it easy for the customer. This is the way, customers can expand their business with you. Let the customers clearly know the value they would be getting by doing so.
ADVOCACY STAGE – The Last stage comes advocacy stage. This is the destination of customer's journey. Brand advocates are highly beneficial for you as they talk good about you to everybody and influence numerous customers. Their endorsements are way too good for your name. These are the first ones to contribute to your sales. Developing a healthy relationship can help you in lead generation.
It is being concluded that developing a long-lasting relationship mostly turns into brand advocates. This relationship does not end here. It is now your duty to keep the relationship happier and healthier. Keep them acknowledged with all the latest updates and ongoings of the company. It will help to reflect the customer's willingness of gaining your company more connections. All this stuff consists of advocacy stage.
Now that you have come across the stages of digital sales, here is a brief about what to do next.
by adopting an intelligent model such as this one, you may start to notice some positive happenings to your company. For example – if the company watches some gaps between different stages, it tries to cover up all. Also the company may skip any stage and order the priorities. In short, keep an eye for the value.
Web strategy paid advertisements, product marketing, content strategy, and distribution is being mapped aligned. This implementation is done by the company itself.
As noticed, replies, feedbacks, and good content is the infinite loop present in the digital marketing. Also, it is necessary for the improvement of the process.