Writing a blog is beneficial for your business and can be personally rewarding. But let's face it, even if you're writing for fun, it's nice to know people might actually read your blog. Ranking higher is even more important if you're looking for a business boost.
Most people don't click past the first page or even the first few results of a search. So how can you ensure your page gets seen?
That's where tailoring your blog to Google's liking comes in.
Google's algorithm can be tricky to pin down because it's constantly evolving. But there are ways you can boost your blog by writing relatable content and expanding your online presence.
Tailor Your Writing for Search Engines
1.   Write for a Human Audience
Your blog should primarily be an enjoyable read for your audience. Trying to rank higher in search results is important, but comes second to creating a quality piece of writing.
Luckily, Google has learned to appreciate good writing instead of awkward keyword stuffing.
Google's current algorithm tries to replicate the human experience of sifting through search results. That means if you write a blog that people find helpful and easy to read, Google will probably rank your page higher.
Keyword stuffing may not equal higher ranks anymore, but including a few important keywords throughout your blog can help. Just make sure it sounds natural.
2.   Make it Readable
Writing a reader-friendly post is an important part of creating a better experience for your audience. Think of it as a method of organizing the information you're presenting.
Organizing your writing by using headers and bullet points makes it easier for people to digest. Though you may spend hours writing and considering the words you use, most people skim through pages to find the information they're seeking.
Pages that are poorly organized lead to a high bounce rate. That means people might visit your page but don't stay for very long because they aren't interested in engaging with your content.
In the screenshot below, an excerpt from a blog written for Dr. Karla Bloomquist, you can see an example of how an organized piece of writing looks.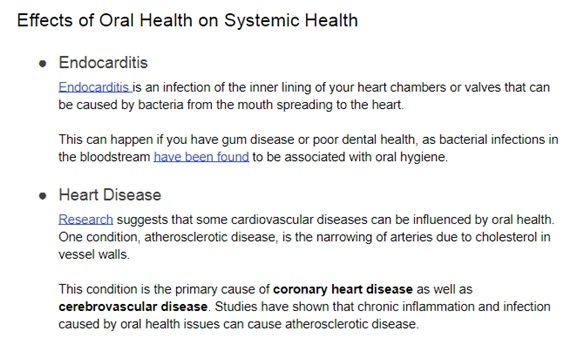 The H2s are the main headers throughout the text. Subheaders under them, such as the ones organized by bullet points above, go under H2s. Any further subheaders under H3s would be H4s and so on.
Important terms within the text are bolded to show emphasis and are easily found when skimming. Bolding may not be noticed by Google, but bolded words do stand out to people.
3.   Make it Mobile-Friendly
The usage of mobile devices is increasing in daily life, so it's likely more people will find and read your blog on their phones. This means it's more beneficial to adapt your writing to be more readable on a mobile format.
As of 2018, Google has made mobile sites a priority when considering rankings. Mobile versions of sites are more important than desktop versions now because of "mobile-first" indexing.
Writing for a mobile format is different, too. Short paragraphs on a desktop or laptop screen may appear as a wall of text on mobile, so keeping paragraphs two to three lines long makes them easier to read.
Google conveniently provides a search console you can use to test how well your website scores on mobile-friendliness.
Quick Tips to Improve Your Writing
Writing a blog that's enjoyable for people to read and attractive to search engines isn't the easiest task. What simply 'writing well' means isn't always clear. Here are some tips to keep in mind:
Edit your work — Even the best writers can make mistakes. Letting someone else read your work can help polish it before it goes to the public.
If you don't have anyone else to turn to, try reading your writing out loud. Hearing your writing can show you awkward sentences and mistakes that are hard to catch while reading silently.
Use common language — The aim of a blog is usually to make it accessible. Uncommon words can be impressive but may distance you from the type of audience you might be targeting.
If you do use a word or term most people may not know, providing a short definition can bring everyone into the loop.
Find a writing style you love — Getting bogged down in rules and rankings can affect your writing. Find a writing style that makes you happy to write and it'll show through.
Lots of blogs pump out cookie-cutter content, so if you can make yours stand out by being fun or relatable, you could gain more consistent readers.
Though what constitutes good writing is subjective, at least Google is learning how to read more like a human. As a person, it's easier to focus on writing an attractive text for other people, rather than for a machine.
Three Advanced Tips for Successful Blogging
Once you have the fundamentals down and are writing a blog that's entertaining and easy to read, there are a few things you can do that can take its potential to the next level. Discover how creating backlinks, making connections, and spending time on promotion can unleash your blog's full potential.
1. Use Smart Links to Boost SEO for Your Blogs
No one knows every factor that Google considers when deciding what's going to rank well, but two are widely agreed upon: Quality content and strong links.
It's up to you to supply the high-quality content, but as far as links go, you can learn some easy linking skills that will yield remarkable results.
When it comes to linking, here are three terms you should know:
Backlinks – Any link that links back to your content.
Internal Links – Links that go to another page on your website or another blog.
Outbound Links – Links that go to external sources.
The traditional reason to use links is simply to add credibility or support to the claims
you're making in your content. However, once you understand the power of links, you
can use them to boost the rankings and SEO potential of your blog.
Two Ways to Use Links to Enhance Your Blogs
Incorporating links into your content isn't difficult and it's a great habit to develop for any writer. Here are three ways to use links to not only enhance your individual blogs but other blogs you've done in the past as well:
Create backlinks to previous blogs within the content.
Say you're writing a cosmetic blog and come to a part where you're talking about the effects of stress on your appearance. You then remember a similar blog you did on that topic a few months ago. Don't hesitate to use this opportunity to promote your other blogs with a backlink at the perfect spot within the content.
This not only leads readers to view your previous work, but also boosts the SEO potential of the blog you link back to.
List "Related Posts" at the end of your blog post and link to them.
Another common, easy, and natural way to ensure that your blog is setting your other blogs up for success is to include a list of related posts at the end of your blog. This can simply be a list of four of your other blogs that are loosely related to your current one, all linked at the bottom of the page.
Making a list of related links is a great way to strengthen your blog network, leading readers to continuously click through your content in a convenient way.
2. Make Connections and Expand Your Brand
Much like how having the respect of the right person can vastly enhance your career, the same is true with blogging. Having the mindset that anyone showing interest in your content can help it grow is great for helping your blogs reach their peak potential.
This is another way to think of it: Yes we're talking about blogs, but your branding empire doesn't have to end there. Blogs can be just one more tool in your efforts to get your name and business out there, and they can accompany Facebook videos, podcasts, TV interviews, and other forms of media to take your brand to new heights.
Here are some examples of how to leverage connections to boost your blogs:
Use strong CTAs at the end of your blogs to inspire interaction. When readers leave comments, be sure to respond to them and see if there's potential to interview them, ask to host your blog on their site, or connect in other ways.
Mention other people as an expert, then let them know. People in business tend to have a self-centered mentality, but by highlighting other entrepreneurs, industry experts, and companies for what they do right, you can vastly increase the number of people who see your content. For example, if you mention the right person in a blog and they Tweet your link, it could result in thousands more people reading and responding to it.
Put yourself out there! If you're an entrepreneur with a message, make it your mission to find creative and compelling ways to be seen and heard.
Once you're finding these opportunities, like podcasts, interviews, or radio appearances,
don't hesitate to mention your blog or even write a blog about the experience afterwards to amplify the experience.
Example: Dr. Timothy Kosinski Appears on the Local News
While most doctors and other entrepreneurs are content with staying in their lane, some prefer to put themselves out there by participating in interviews, appearing on the local news, and appearing as an expert wherever they can.
A prime example of someone who uses these opportunities to build and enhance their brand is Dr. Timothy Kosinski of Bingham Farms, MI. Whether he's appearing on the local news to talk about dental implants or giving a full length interview in the Detroit Free Press, Dr. Kosinski is not afraid to put himself out there, make connections, and establish himself as a renowned expert in his field.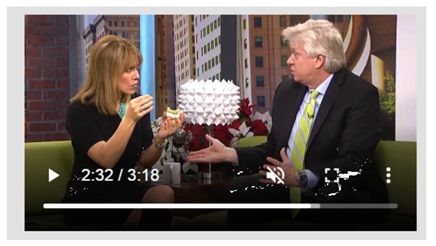 Whether you're a mechanic, a marketer, or any other type of entrepreneur, you can find outlets that would love to hear your expert perspective. From there, linking these appearances to your blogs can catapult their popularity to heights you never thought possible.
3. Spend Time Promoting Your Blog
As a blogger, finishing it and hitting the publish button may feel like the end of your task. But successful bloggers know that that's only the beginning. While you may have created the best blog ever, not many people will see it if you're not spending time promoting it.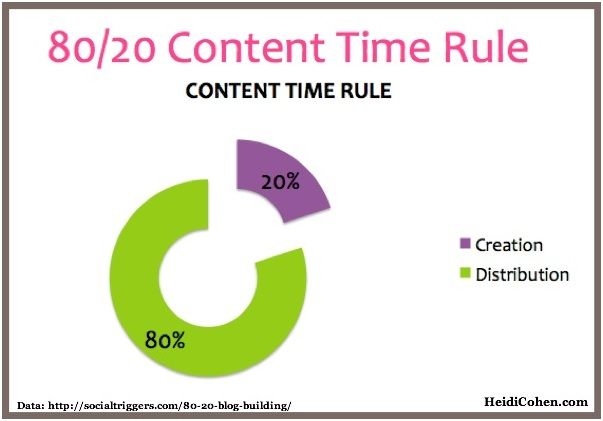 SEO expert, Heidi Cohen, shows that 80% of your blog efforts should be on promotion.
How to Promote Your Blog and Set it Up for Success
Once you've posted your blog, try these strategies to give it the publicity it deserves:
Share it on all of your social media outlets
If you, the author, isn't willing to share your blog on social media, how can you expect anyone else to? From Facebook to LinkedIn, Twitter to Reddit, it's crucial to post your link on your favorite social media platforms so more people can see your blog. Not only is this an easy process, but it can multiply the number of people who see your blog in a short time.
Link to your blog in email campaigns
Most businesses use emails to keep in contact with clients or interested prospects, and linking to your blog can be an excellent way to ensure that hundreds or thousands more people are going to see it.
Connect all other media sources to your blog
Does your company have an active YouTube Channel, a company podcast, or are you active on a particular industry site or forum? All of these present valuable opportunities where you can link from and promote your blogging efforts.
These 6 Tips Will Lead to Blogs That Get Results
Blogging is a simple process, but writing blogs that inspire action is another matter altogether. By following solid fundamentals when writing your blogs and then taking the time to give them the attention they deserve, you may be surprised at how successful your blogs become.